You know what they say (or sing) "it's the most wonderful time of the year!" And what else do we give besides gifts? Our wish lists! But hey, not everybody has their wish lists ready. Don't you worry, we gotcha covered! We listed down items that might help complete or start your Most Petmalu Christmas Wish List this 2017! Word of advice to gift-givers: this list is a Millennial Christmas Wish List so you might wanna check what interests your recipient the most! Let's go!
#1 Flash Drive with a big memory
With today's massive amount of information available, millennials get themselves into a  common trouble: not enough memory space! Oh, and don't forget the many acads-related files for students! If you're one of them and your current storage just isn't enough, include in your wishlist this flash drive for you to carry everywhere! Because really, we're all like Sharpay when it comes to memory: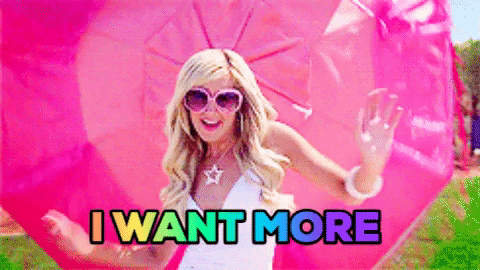 #2 Fandom Collectibles
Let's admit it, folks. We're are so caught up with the latest TV shows, books, music, and films because we just. Can't. Help. It. Right?! So if you're a major fan of pop culture, you might want to include some fandom stuff you've been drooling over for so long!
For starters, if you're a GoT fan and the Lannisters captured your heart (especially oh-so-clever Tyrion or oh-so-cute Tommen), try checking out this Lannister Deluxe Stationery Set and write out a parchment for a raven to carry!
Or if you wanna delve deeper into the world of Harry Potter and Hogwarts, get this Harry Potter Quidditch Ball Set on your wish list and Quidditch your way through the vacation!
There are soooo many fandom collectibles on our site to add to your wish list that'll make you go…
#3 Office/School Supplies
Millennials are turning obsessed over office and school supplies because these encourage creativity and boosts the drive to study or work. If you're a student and is hoping for something cute and colorful to help you in school after the break, let your family and friends know you want these Stabilo Boss Mini Pastel for your notes! Just look at those cute highlighters!
If you're working in an office and your desk is ultra disorganized and cluttered with lots of paper, why not wish for this pretty yet useful desk organizer?! Your desk will look much better! (The boss might even compliment you! *wink**wink* *nudge* *nudge*)
#4 Art Materials
The generation of today take GREAT interest in the arts – especially the visual arts! That's not even the best part! Millennial artists use their art for a cause; be it in charity or about politics or awareness about an issue like human trafficking! But art materials run out so fast because you just can't stop the sudden burst of creativity! If you're into painting, why not get yourself this Canson Watercolor Paper or this Canson Oil and Acrylic Paper?
If, on the other hand, you prefer using colored pencils, check this Caran D'ache Colored Pencils and go crazy over the wide range of hues! If you're more into pencil and sketches, the following are perfect for your wish list: Charcoal Sticks, Canson Sketchpad, and 6-pcs Graphite Drawing Pencils.
Amazing finds, right?! Yes, our faces were like this too!
#5 Travel Pouches and Organizers
Scroll through your social media news feeds and you'll see friends, classmates, and colleagues going out of town on weekends and/or breaks! And there you are, lying in bed at home with your phone on your hand – unable to go with them because, well, you don't have the arsenal for packing!
So for your petmalu Christmas wish list (and to help a New Year Resolution to travel more!), don't forget to include this packing cube for non-bulky carry-on! Also, this useful luggage organizer will help you declutter your way into your luggage bag! Worried about your things getting wet because of wet toiletries when coming out of the shower? We got you covered! Write on your wishlist this travel toiletry organizer and worry no more!
Now there's no excuse for you not to travel! Begin!
#6 Elegant yet Durable Bluetooth Speaker
We have super cool songs this year that we all wanna dance into! The problem is, our phones' speakers can only do so much so we tried buying those cheap bluetooth speakers we find in the streets. At first, it worked though the sound quality was compromised. But one day, it just wouldn't work at all!
Adding this durable and elegant-looking bluetooth speaker to your wishlist and eventually receiving it would give you endless chances of channelling your inner Beyonce! Time to get that body movin'!
Bonus tip: You can use this speaker when you need music for your exercise/workout sesh at home!
#7 Pocket Powerbank
Just like the bluetooth speakers, most of us bought our powerbanks for such a cheap price only to suffer after it broke down and refused to charge our gadgets! The worst part? Our phone died when we needed it the most! Grrrr!
Battery and power are extremely important for millennials as these enable them to keep themselves updated! So if you're stuck with your crappy powerbank, might as well get this powerful powerbank (get it?!) so you won't have to worry about your gadget dying! Oh, and it's so compact it could fit right into your pocket!
#8 Your reading lists!
I mean, what kind of bookworm won't take the chance to ask for books as a gift, right?! You better have your reading lists complete, folks, or you'll end up receiving those typical gifts like picture frames and figurines which you have nooooo idea what for. LOL!
Well, if you haven't thought of books you want to read, consider this list of our bestsellers for November and take your pick! Also, don't forget to tell this to those who says you're a reading addict:
#9 Drinkware to bring anywhere!
With all the parties here and there, buying commercial bottled water would cost too much money! Plus, it wouldn't be a healthy option for the environment. If you're the type to go party hopping or even just working out outside the house, you're gonna need drinkware that is both light and durable!
We suggest you get your wish list completed by this Kate Spade Drinkware that has a rubber stripe to keep it from slipping out of your hand. Don't worry, it's a unisex drinkware so the guys out there could breathe out if you're worried about it being too girl!
Or if you're a girl and just staying indoors, this Kate Spade Tumbler is fit for the pretty lady that you are. So cute, isn't it?!
#10 Planner 2018
Last but definitely not the least is one of the MOST NEEDED items by everyone. In 2018, get your life together as you get more things done with….a planner!
Of course millennials are fanatics of minimalistic designs that give them freedom to create their own design, so this Kikki K Planner is just the right amount of professional vibe and minimalism! But if you want to have a cute planner, Kikki K Time Planner is the perfect one for you this 2018.
Aaaaand that ends a
Millennial's (therefore YOURs!) Most Petmalu Christmas Wish List of 2017
! Hurry up, friends! Complete your wish list, send 'em out ~subtly~ to family and friends, and hope (haha!) that you receive one – if not all – of them! If not all, then, oh well… Maybe next year. *wink*
Don't forget to send them the link to
National Book Store's most petmalu holiday sale
so it's more convenient for them to order online – with FREE SHIPPING NATIONWIDE & CASH ON DELIVERY OPTION!!
Happy Holidays from all of us!
You might also like: