Give your holiday presents an extra special touch with these easy Christmas gift wrapping ideas. Whether you're gifting festive fares, a handcrafted trinket, or something really unique, these various DIYs have got you—and your gift—covered.
Creative Gift Wrapping Ideas for the Holidays
1. DIY Christmas Wreath Label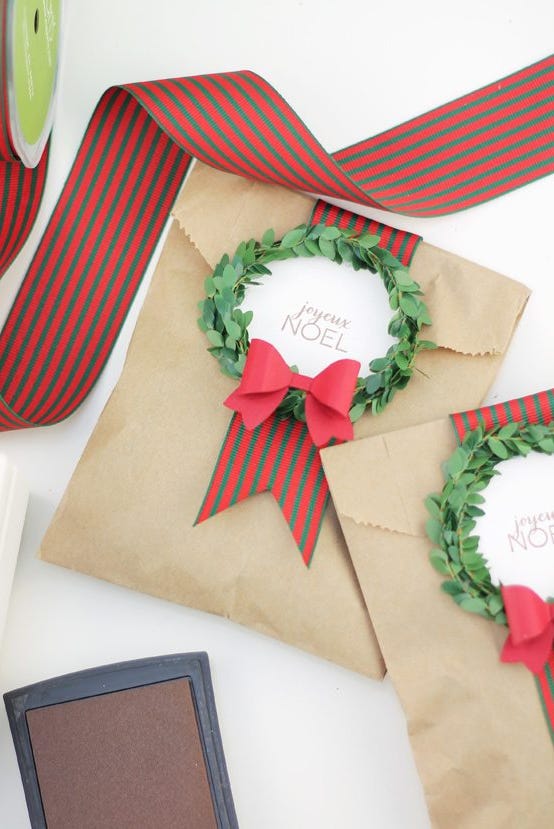 Make small trinkets, gift cards, and other tiny gifts look grand with this festive wreath label you can throw on any small paper bag.
2. Rudolph Gift Wrap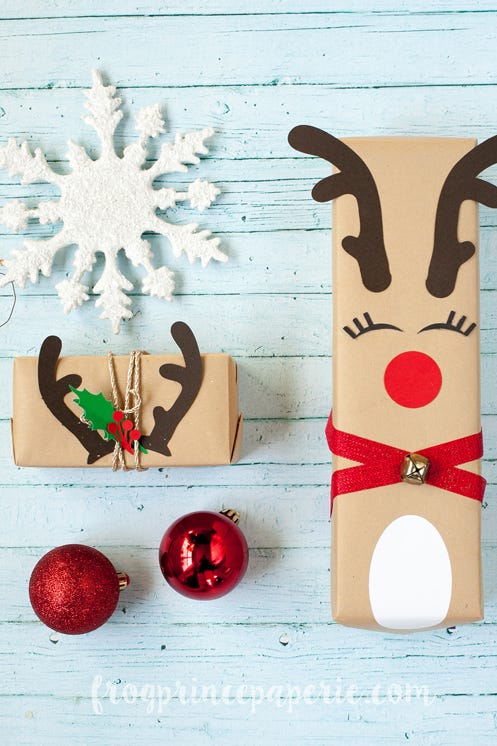 Create your very own fleet of reindeer with this easy craft that you can display under your tree or anywhere in your home.
3. Natural Elements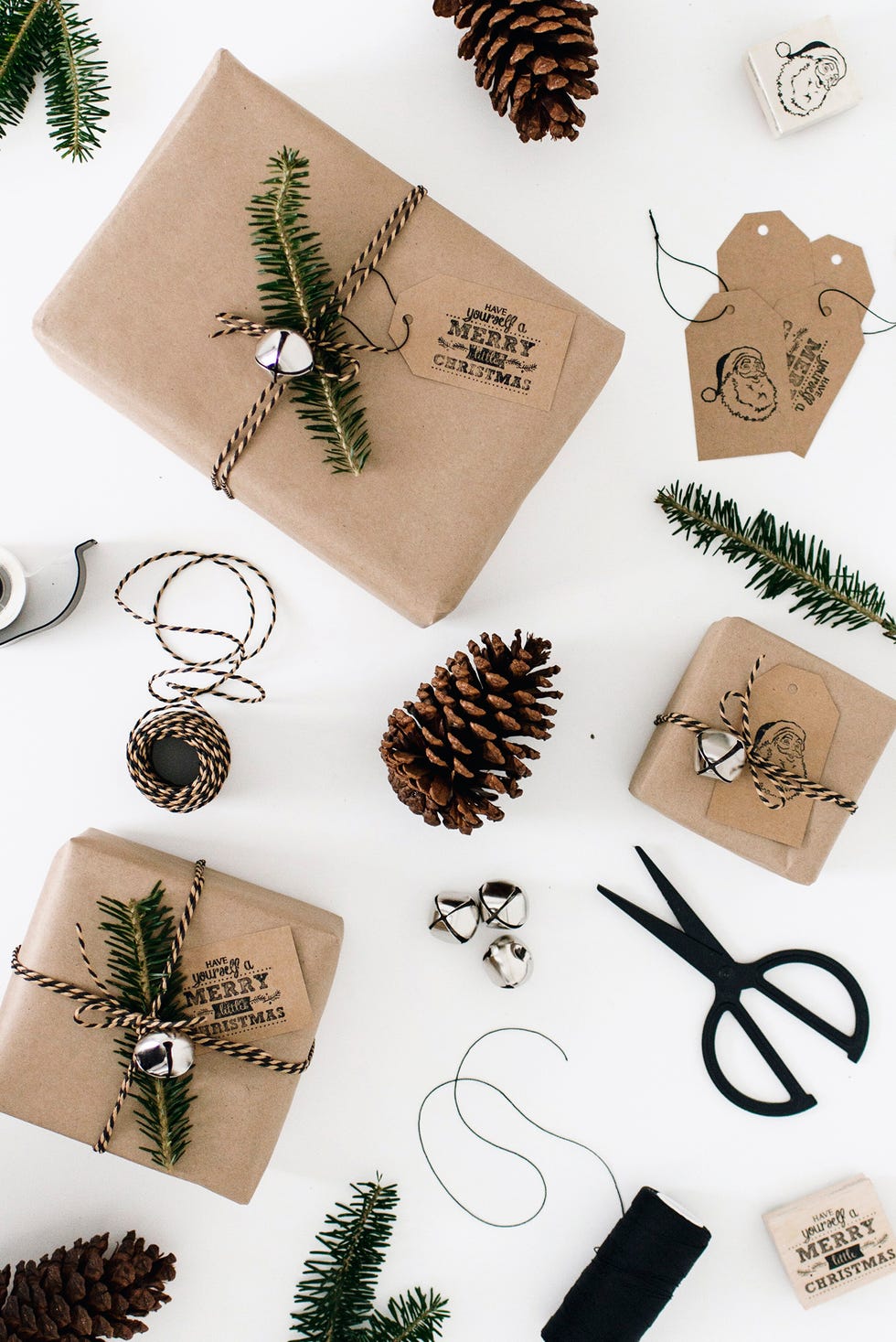 Forage your backyard for tree clippings, pinecones, and other pieces of fresh greenery to top your gifts. Fast and free—it doesn't get better than that!
4. Easy DIY Holiday Paper Bags

Sometimes paper just won't cut it. These simple bags, adorned with merry messages, work for gifts of all shapes and sizes.
5. DIY Paper Straw Star Gift Toppers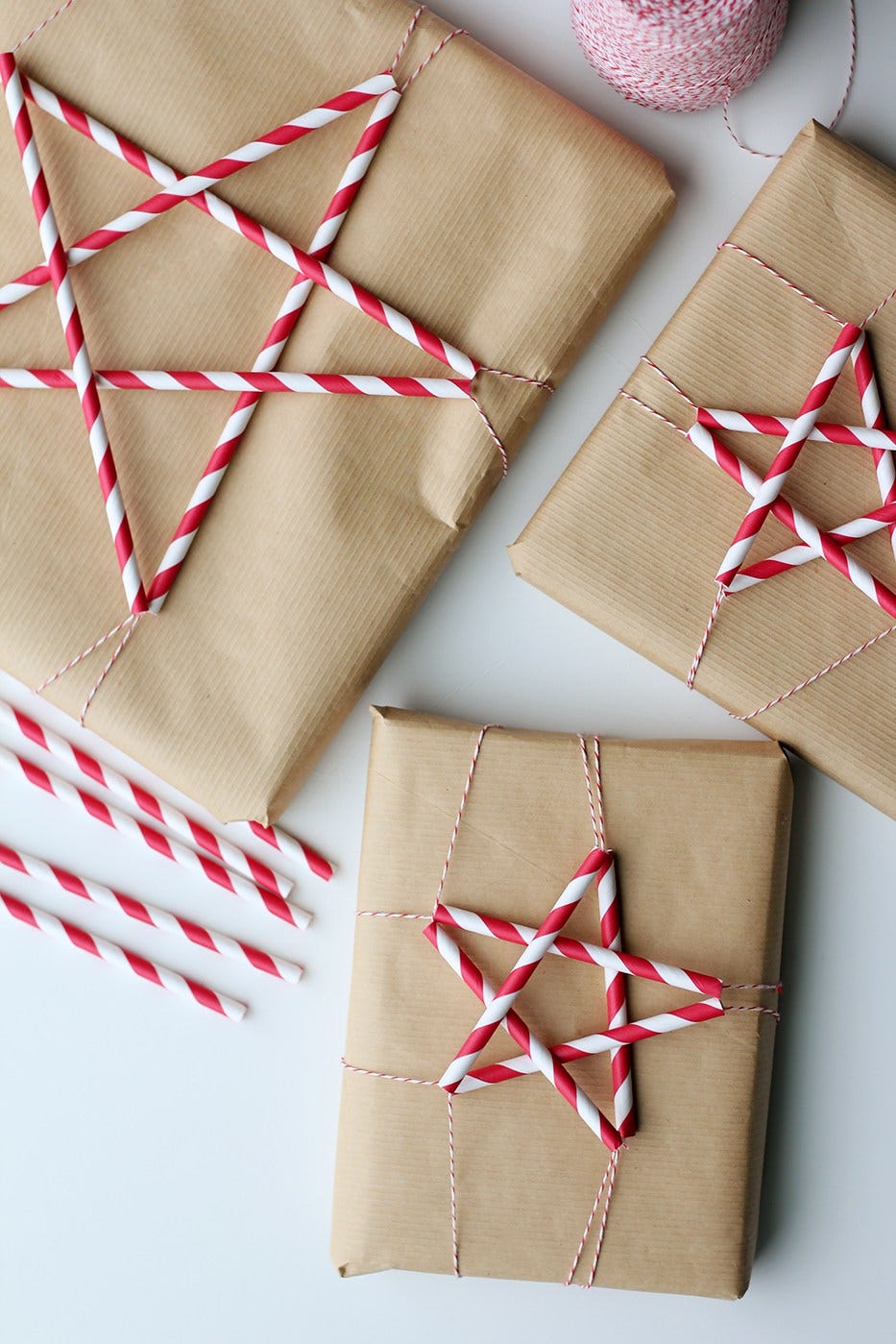 Buy in bulk and you can create this ex-straw-dinary gift wrap idea on the cheap.
6. Candy Cane Topper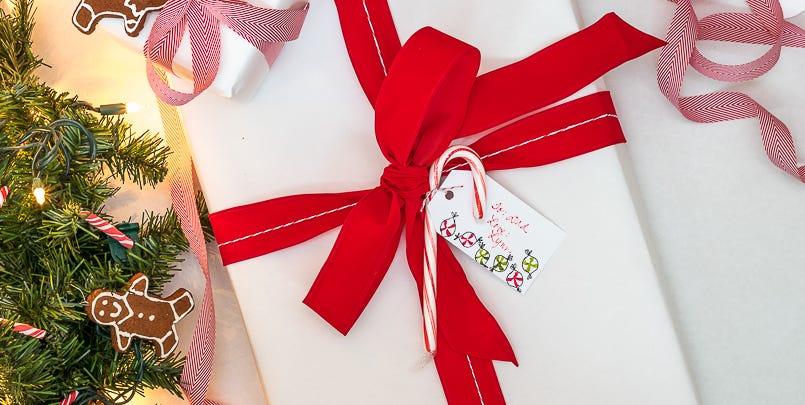 Make your gifts even sweeter by adorning them with everyone's favorite Christmas candy.
7. Rustic Elegance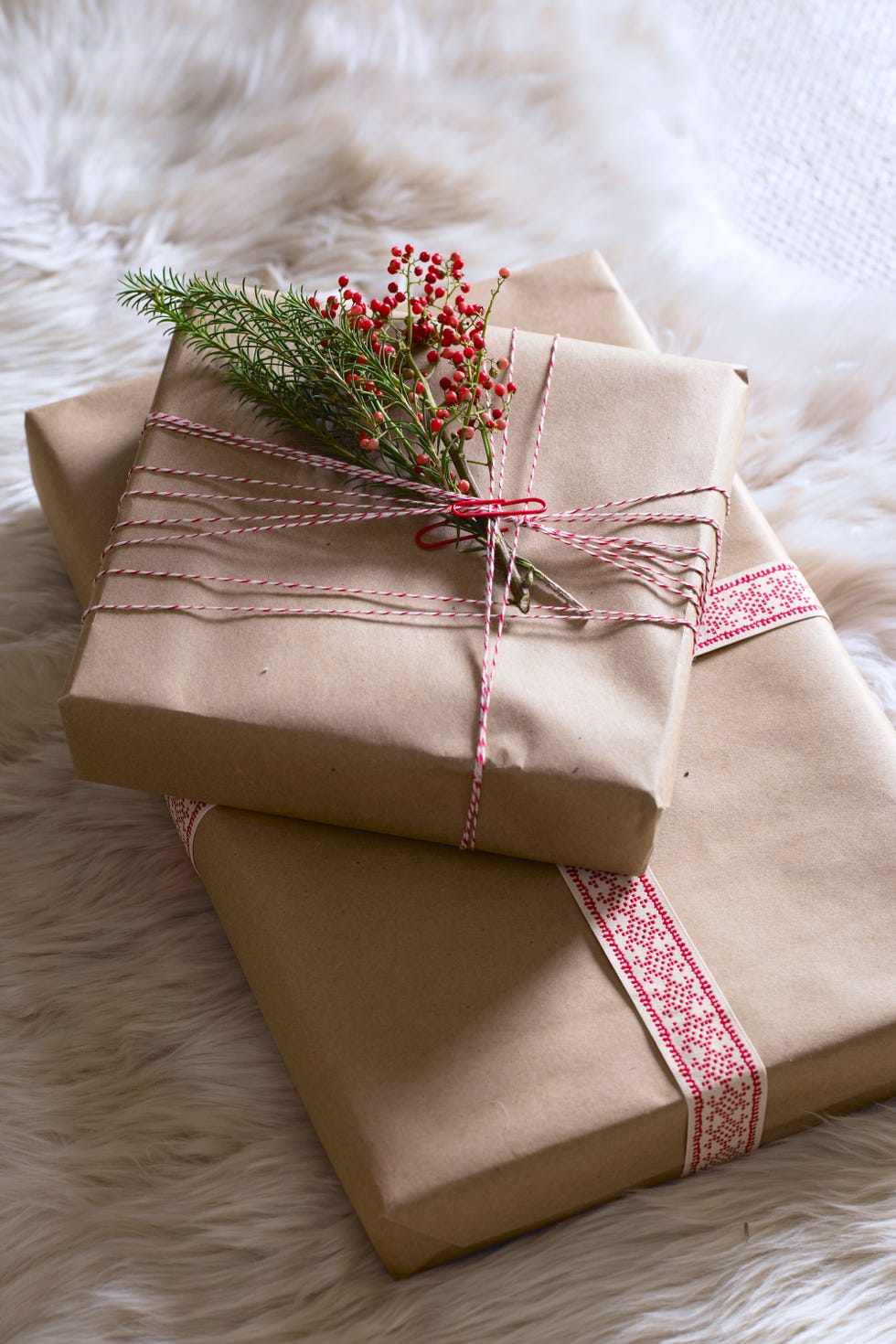 Sprigs of rosemary and pepperberry perk up these presents wrapped in kraft paper.
8. Gift Toppers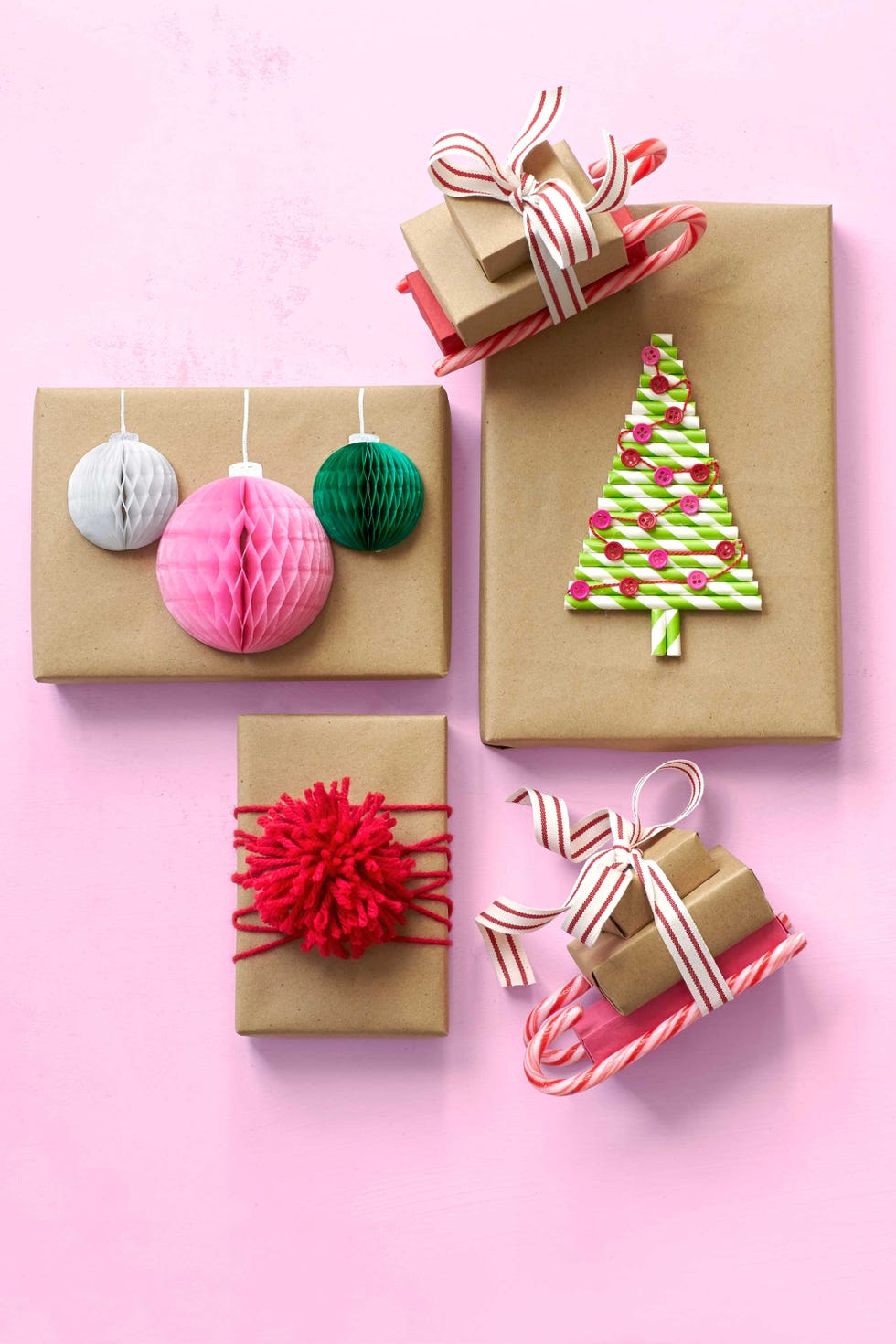 These colorful creations add wow factor to humble brown paper packages.
Honeycomb Ornaments: Cut 1 ½" and 2 ½" half circles from honeycomb paper. Hot-glue one side of folded half circle to package; unfold and glue another side of the sphere to box. Use a silver paint pen to draw ornament hangers.
Paper Straw Christmas Tree: Use a pencil to draw a triangle on the top of the package. Cut paper straws in graduated lengths to fit horizontally within the triangle. Adhere with hot-glue. Cut two 1″ pieces of straw and glue vertically at the base to form a trunk. Weave a piece of string down the length of the tree, adhering with dots of hot glue along the way. Glue small buttons along the length of the string.
Yarn Pom-Pom Twirl: yarn around four fingers 50 times. Cut excess yarn and slide loop off fingers, making sure that it doesn't unravel. Cinch at the middle with yarn. Use scissors to cut loops and fluff with fingers. Wrap package with coordinating yarn, using ends to tie on the pom-pom.
9. Paper Gift Packets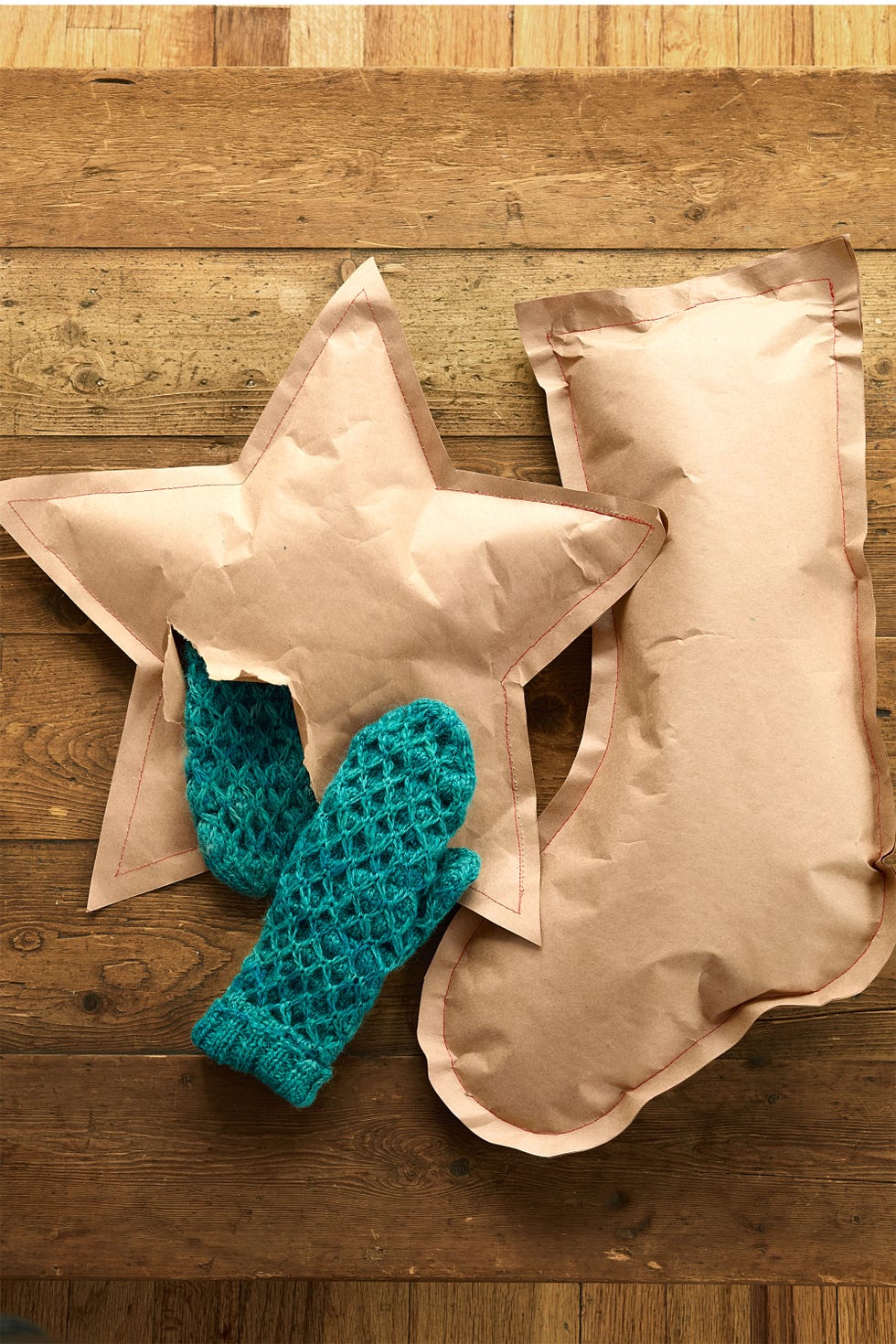 Making packaging to be proud of requires little more than thread and scrap paper. Let soft goods shine—sans box—by layering two pieces of kraft paper together and drawing your chosen shape (star, stocking, or other Yuletide symbol) on the top piece. Cut through both layers of paper, then sandwich a gift between the two shapes and stitch along the edges using contrasting thread.
10. Road Map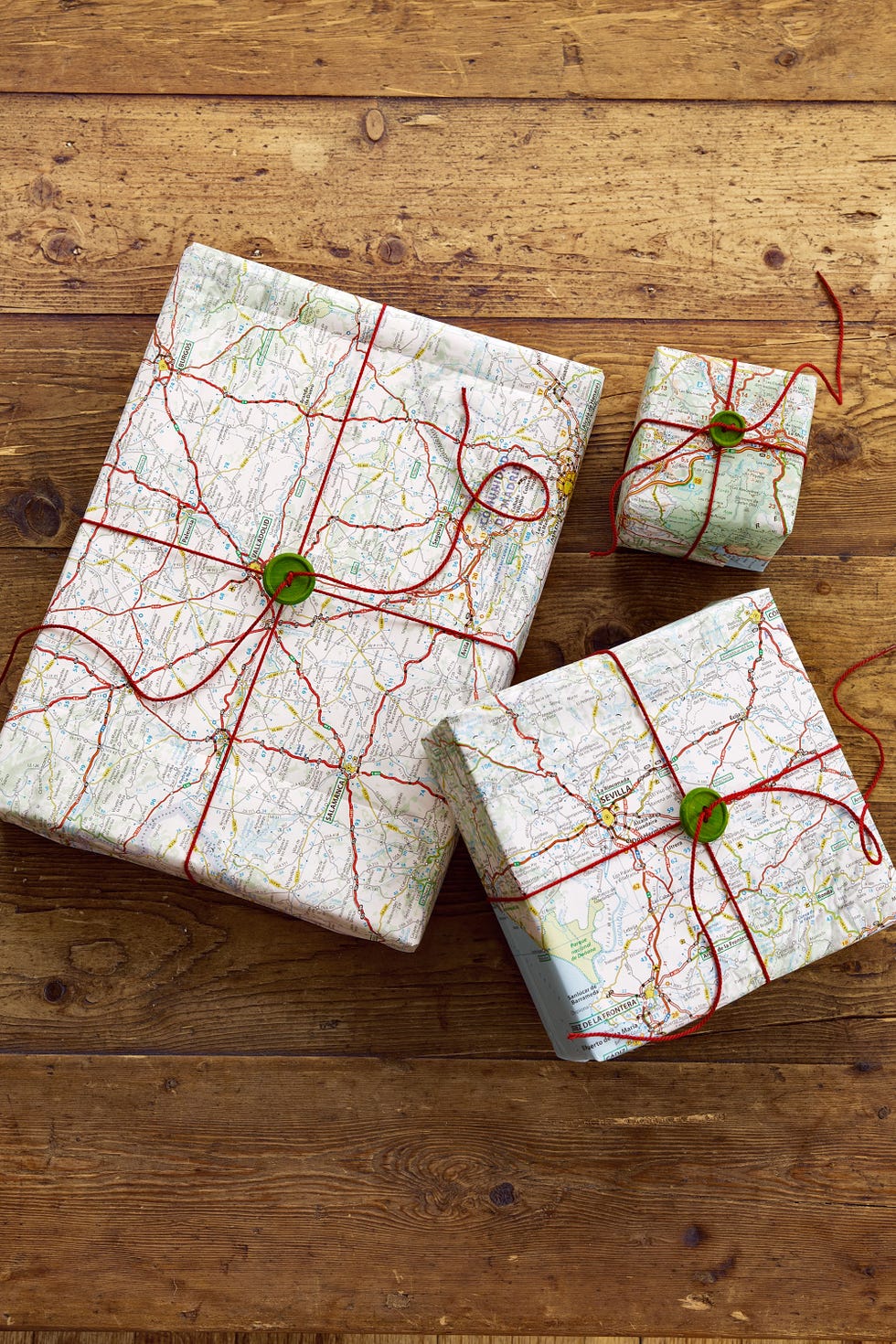 Freebie road maps and atlas pages serve as great graphic gift wrap. Instead of tying a bow on top, thread thin cord through a vintage button and knot tightly to secure.
source:countryliving.com
For more fool-proof gift wrapping ideas, we made a very easy DIY gift wrapping techniques and styles that you can try and mix and match together!

Visit our gift wrapping section for more options!